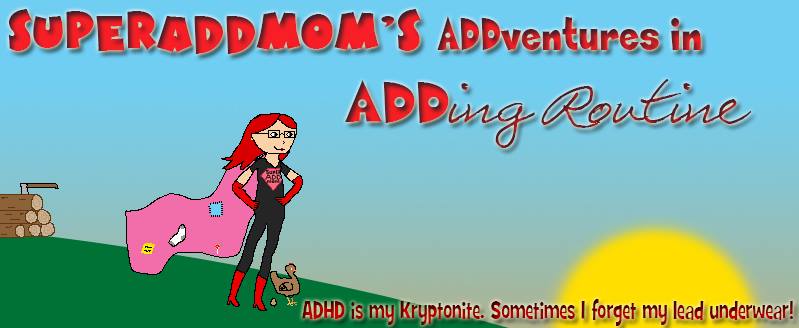 Please click on the link below to listen to/download this podcast:
Tune into the LIVE podcast this Sunday January 11th at 4pm PST for a powerful discussion with special guest Ril Giles aka Super-ADD-Mom. Ril is an Independent ADHD Coach sharing her self-developed and practiced program 'ADDing Routine' helping herself and others gain control over the negative symptoms of ADHD and chaos at home. Please call (917) 889-7025 during the LIVE show for Q&A or to share your struggles, tips & suggestions. *All podcasts are also available on iTunes after the broadcast airs*
Ril Giles aka SuperADDMom is 40 years old with ADHD from Ontario Canada. She was diagnosed ADHD in 2005 after the birth of her second child, when her symptoms became unmanageable.
She is an Independent ADHD Coach, which she calls an Independent Neuro-Function Facilitator. Basically… a daily living ability coach to children and adults with ADHD, with special interests in helping mothers/women.
"I tackle the daily living struggles that often are the parts of ADHD people struggle with that stops them from seeing the positive of being ADHD. The lost keys, staying on top of housework, having clean clothes, time management etc.
I have over 10 years of background work in early infant care and child development. As an INFF, I assess the client's biggest issues in day to day living, their needs, and what their current self instilled coping techniques are, to help my clients with ADHD begin to be more functional in life in achieving their goals.
I help them begin getting control of the chaos at home through a program I developed over the last 10 years called 'ADDing Routine' which I share for free on my website in ongoing blog posts."
Ril shares the program she developed for herself, which she openly admits to needing just as much as anyone. She falls off the program too and shares snippets of her home on social media to show she is not an organized person by nature either.
She has seasonal depression from her northerly Canadian location and the lack of sun light in the winter and is currently working the ADDing Routine program to get her own house back in shape, while she shares it for others to learn from as well.
Ril calls the chaos and disorganized nature of her ADD home CRAP, which stands for Can't Really Achieve Peace. So, ADD CRAP is the piles of papers and unsorted boxes in the spare room you can't get into, the always dirty dishes, the fact that no one has clean socks or underwear for the week etc.
She uses her ADDing Routine to get out from under the CRAP and help maintain her home by taking into account short attention spans, ADHD brain chemistry of low dopamine, and how boring housework can really be when our minds go a million miles an hour, with helpful routines and plans that work for ADHD people who are most often visual learners and seekers of instant gratification.
Be sure to visit her website and follow her on social media:
@superaddmom on twitter, facebook, instagram, and Pinterest